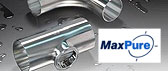 Bio-Pharm Fittings
Please find more about MaxPure fittings (ASME BPE) here

Pharma & API
Everything you need for process integrity
A lot of processing takes place before an API is available as a highly-purified crystalline solid which is ready for pharmaceutical formulation to produce an end product for the world market.
During this production process, the substance passes through many stages in a complex synthesis path completed by various purification and separation operations in specialized equipment. It is worth keeping in mind that nearly all pharmaceuticals are "cooked" in organic solvents. The work is done "in solution". The feedstock is present in liquid form or as a solid which is dissolved. The liquid phase is central to pharmaceutical production, and problem-free logistics are essential.
Tubing networks up to15 miles long with thousands of elbows, tees and all types of couplings along with a large number of detachable fittings crisscross these plants like arterial networks. Nothing must be allowed to block the tubing and bring operations to a halt. There must be no deposits causing sclerosis and cross-contamination of entire batches.
NEUMO fluid handling systems
Sophisticated chemical synthesis requires top-class fluid handling systems. NEUMO is the solution of choice, because we know what to do to ensure that the tubing, fittings and joints in the arteries which run through your plant are cGMP compliant. You can be confident that you will pass the next audit with flying colors.
NEUMO NEWS