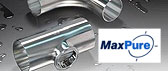 Bio-Pharm Fittings
Please find more about MaxPure fittings (ASME BPE) here

Imprint
NEUMO Armaturenfabrik-Apparatebau-Metallgießerei GmbH + Co KG
Henry-Ehrenberg-Platz 1
D-75438 Knittlingen

Court of registration: Mannheim
Register number: HRA 510539
VAT Registration No. DE 144 527 100

General partner: Senator Ehrenberg GmbH, Knittlingen
Court of registration: Mannheim
Register number: HRB 510634

Managing Directors:
Wolf Ehrenberg
Harry Ehrenberg

Phone: +49 7043 36-0
Fax: +49 7043 36-130

Liability information

The free information provided on this website is for information purposes only. We cannot accept any liability for the information provided being correct, complete or up to date. No claims may be derived from the information, recommendation or advice based on the offering on our website. We cannot accept any liability for damages unless we are guilty of malice or gross negligence.

We reserve the right to change, supplement or delete the information on our website at any time. The destinations of links to other internet sites on our site did not contain any illegal content that we could identify at the time that the link was created. However, we have no influence over this external internet content and hereby expressly distance ourselves from the content provided there. In particular we cannot provide any guarantees that external internet sites to which the links on our site lead feature exclusively legal content or for the linked websites not having been edited after the links were created so that they now no longer feature exclusively legal content.

The brand names mentioned on the site are not necessarily marked as such on our website. We would like to point out they are nevertheless protected by the provisions of intellectual property law. The texts, programs, graphics and the audio and video files created by us are protected by our utility and exploitation rights and may only be reproduced or distributed with our consent.
NEUMO NEWS