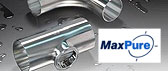 Bio-Pharm Fittings
Please find more about MaxPure fittings (ASME BPE) here

NEUMO – the right choice for product and process integrity
Top-class fluid handling systems to meet tomorrow's challenges
NEUMO fluid handling systems are synonymous with innovative coupling technology and high-quality tubing, components and equipment. The products are made of stainless steel or special materials such as duplex steel and nickel-based alloys. NEUMO products and solutions are found in systems and processes which are among the most sophisticated the industry has to offer.
The list includes
API synthesis systems
Biotechnology-based production of biopharmaceuticals using sterile process technology
Microelectronic and photovoltaic production and research involving ultra-high purity media
Customers who use our top-quality fluid handling solutions have the confidence that they are able to comply with
Good Manufacturing Practice (GMP)
sterility
cleanability, cleanliness, etc.
standards in all of their production systems to ensure process and product integrity.
NEUMO NEWS