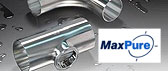 Bio-Pharm Fittings
Please find more about MaxPure fittings (ASME BPE) here

NEUMO is always the number one choice
In-depth expertise, many years of experience and a genuine understanding of the processes used by our industrial customers provide the foundation for the outstanding quality of our products and their successful track record in fluid handling applications.
NEUMO products are found primarily in production lines in the pharmaceutical, food processing, biotechnology and semiconductor industries. Most of them are made in house, and they are always the number one choice when fluid media (liquid and gas) must be especially clean during processing. NEUMO products feature high precision and outstanding durability/service life. The certified reliability of these products safeguards the integrity of the production process at international customer sites in many of the world's key industries.
The NEUMO product portfolio includes standard parts such as butt weld fittings, couplings and tubing. Innovative connection elements for sterile applications based on NEUMO's exclusive LowVoid and CleanLip technology are also part of the portfolio. In addition, NEUMO supplies top-quality assemblies for fillers in the food and beverage industry as well as finely crafted sterile vessels and fermenters , sterile heat exchanges for the biotechnology industry and top-grade tubing made of stainless steel and special materials.
NEUMO NEWS