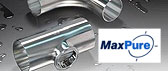 Bio-Pharm Fittings
Please find more about MaxPure fittings (ASME BPE) here

NEUMO Ehrenberg Group
Attractive employer for people who shape the future with us.
Ideas, quality, service and commitment - we do a lot to become even more successful with our customers. Our most important asset in this: our employees. They ensure the success of our company and its products, they are our core interest, and we encourage and challenge them.
The NEUMO-Ehrenberg Group is an owner-managed, globally operating group of companies with more than 2,100 employees.
NEUMO GmbH + Co KG was founded in 1947 as the parent company of the group. The company develops, produces and supplies tubes, components, vessels and heat exchangers made of stainless steel and highly corrosion-resistant special alloys.
As a technology leader in the field of sterile fluid technology, our products are used in the main manufacturing processes in the pharmaceutical, biotechnology, chemical and food industries.
We are rooted in Knittlingen and at home in the world with numerous subsidiaries. At our headquarters in Knittlingen, we employ approximately 190 people.
Do you want to put your skills into practice in our team? Then we look forward to receiving your application!
Discover our vacancies and become an employee at NEUMO GmbH & Co. KG to contribute your skills to our team.

Vacancies
Apprenticeships
Login for applicants
NEUMO NEWS