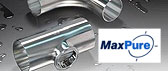 Bio-Pharm Fittings
Please find more about MaxPure fittings (ASME BPE) here

Culture, Nature, High-Tech
Working in the city where Faust was born – right in the heart of a nature preserve
Alchemist, astrologist, soothsayer, doctor of medicine? Who or what actually was this Faust? It appears reasonably certain that Faust was born around 1480 in Knittlingen, right in the middle of what is now the Stromberg-Heuchelberg nature preserve Naturparks Stromberg-Heuchelberg. The Faust monument standing in front of the Faust Museum in the Old Town Hall bears witness to this innovative human spirit.
The fact is Knittlingen is a great place to live and work. The city has a traditional flair, is embedded in a highly interesting cultural environment and is surrounded by an attractive natural landscape. Moreover, Knittlingen is making high-tech history. Here at NEUMO since 1947, we have been developing and manufacturing fluid handling components made of stainless steel, which are used on sterile production lines in the food, pharmaceutical, biotechnology, chemical, semiconductor and solar panel industries.
An attractive employer for people who are thinking out into the future
Our employees are our most important asset. The very success of our company and its products depends on them. They are our top priority. We develop their potential and expect a lot from them.
We are looking forward to receiving your application.