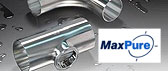 Bio-Pharm Fittings
Please find more about MaxPure fittings (ASME BPE) here

NEUMO – partnerships and measured expansion right from the start
The road from a local "stainless steel foundry" to a global player
NEUMO began expanding early on, setting the stage for the company's rapid development. The policy has always been to forge strategic partnerships, proceed thoughtfully and integrate companies into the NEUMO Ehrenberg Group while allowing them to retain their business autonomy rather than taking full control, as is illustrated by the following examples.
The company was founded in 1947 and began to take shape in the early 1950's. High-grade hygienic couplings for tubing were not yet available at the time. NEUMO developed these couplings and introduced them to the market. NEUMO worked closely with stainless steel producers that supplied forged semi-finished products without blowholes. This type of business relationship was novel and unconventional at the time. The result was better hygiene at dairies, longer shelf-life for dairy products and improvements in the supply chain. At the time, NEUMO was the hygiene standard setter in the food processing industry.
There was a time when seamless stainless steel tubing was in short supply in Europe. NEUMO had no hesitation in importing this type of tubing from Japan at a time when this type of international procurement was less common than it is today. As NEUMO continued to develop its relationships with the world of stainless steel and special materials, it became a specialist in the procurement of these materials. NEUMO acted as a breeding ground and a pioneer in the wholesale supply of stainless steel tubing, which has become a profitable core business. The NEUMO-Ehrenberg-Group is now the European market leader in this segment.
Top-quality carbide tools which NEUMO needed to cut interior threading on tough stainless steel did not exist. NEUMO set out to find a partner capable of developing and producing these tools. The result was Vargus, a leader in carbide tools and a company with a worldwide footprint. Nearly everyone in the metalworking industry is familiar with the small, practical Shaviv deburring tools. These tools made by Vargus are an indispensable aid at any lathe or milling machine around the world.
26 companies on 4 continents are now part of the NEUMO-Ehrenberg-Group. A workforce of 2,100 employees generates a total turnover of 500 Mio. €. NEUMO has also become a top-class business angel which attracts young talented individuals and developers who have the insight and courage to try something new and branch out into ground-breaking technologies.
The impressive milestones of the NEUMO-Ehrenberg-Group
The NEUMO Ehrenberg Group worldwide
NEUMO NEWS