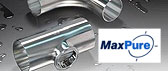 Bio-Pharm Fittings
Please find more about MaxPure fittings (ASME BPE) here

Damstahl publishing 3rd book
30.11.2016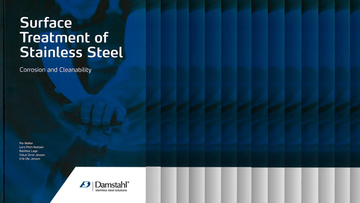 Damstahl publishing 3rd book:
Surface Treatment of Stainless Steel - Corrosion and Cleanability
With this book, Damstahl completes the trilogy with focus on the most essential challenges and problems within the field of stainless steel – this time with special focus on surface treatment.
The book is based on the fact that a wrong and inadequate, or non-optimised, surface treatment may cause corrosion problems which may lead to costly breakdowns and extended repair periods. Surface treatment is also essential for the cleanability, which is of greatest importance to avoid bacterial problems, which may cause anything from curable stomach infections to fatalities.
The series of illustrations and analyses in the book are based on thorough laboratory tests and are supplemented by practical experience from "the world of reality". The authors are critical towards and suggest alternatives to otherwise acknowledged standards for evaluating surface roughness. Especially the "classic" Ra is critisised.
The book is available direct at NEUMO (Contact: Mr. Dörr -
m.doerr@neumo.de
) or at Damstahl at a price of 84,00 €.
NEUMO NEWS