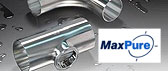 Bio-Pharm Fittings
Please find more about MaxPure fittings (ASME BPE) here

Miguel Guerra disbanded into retirement after 39 years at NEUMO
26.07.2016
On July 26th we had to say goodbye to our long-term employee and colleague, Mr. Miguel Guerra, who has left into retirement
after 39 years at NEUMO
.
Miguel Guerra has been employed in different departments for the long time of 39 years. He has started in exhibition and booth construction, followed by different other respnsibilities, at last he was working in our aseptic warehouse.
Also 2 of his younger brothers are still employed by NEUMO.
We wish Miguel Guerra all the best and a lots of health for his new period of life.
Picture (from the right to the left):
Bertram Brückner (CFO & CHRO), Miguel Guerra, Harry Jost (Deputy of MD), Manuel Guerra (brother), Carola Staib (chairwoman of works comittee)
NEUMO NEWS